INKPOT#72 CLASSICAL MUSIC REVIEWS: RAVEL/DEBUSSY String Quartets. Quartetto Italiano (Philips)
Claude DEBUSSY (1862-1918) & Maurice RAVEL (1875-1937)
The String Quartets – Inktroduction by Ong Yong Hui

Inktroduction
The Debussy/Ravel String Quartet coupling is ubiquitous on record, but fortunately it makes much more sense than other pairings around. For both composers, their string quartets are their first forays into chamber music, and finally their only entry for the genre of string quartet. Both works are representative of the composers in their formative years before they gained recognition as successful composers.Many similarities can be found too in a comparison of the music. Both quartets have fast introductory movements, followed by a scherzo with prominent pizzicato parts, a slow movement and a vigorous finale. Ravel was accused of being the imitator here, as Debussy produced his own quartet (1893) first (Ravel's was done 1902-3). Ravel was on good terms with Debussy then and obviously admired his Quartet enough to write one himself, which has led critics to comment that Ravel's work was just a good imitation of the former. Ravel always resented these accusations and protested against them. Both works received mixed reactions when premiered; furthermore César Franck and Gabriel Fauré, teachers of Debussy and Ravel respectively, had only disapproving words to say about their pupils' stylistic direction.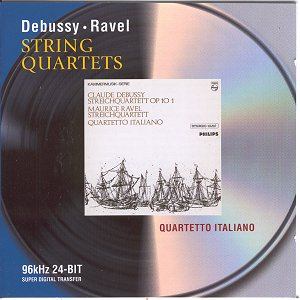 Claude Debussy · Maurice Ravel
The String Quartets
Quartetto Italiano
Paolo Borciano · Elisa Pegreffi violins
Piero Farulli viola · Franco Rossi cello

PHILIPS Classics 420 894-2
[59'36"] mid-price
The Quartetto Italiano's recording of the Debussy Quartet is also available on a Philips disc of Debussy Chamber Music (Philips Solo 442 665-2); the Ravel is on Philips Solo 454 134-2. Each is coupled with other chamber music pieces by each composer. The Quartetto Italiano's performance should make you feel that it is the only recording you would ever need with these two string quartets. They impress with their well-balanced ensemble playing, which is particularly important in the rich scoring of Debussy's Quartet – clarity is essential to bring out the atmosphere. Tempo changes required in this work is also handled with flexibility, without lingering around key passages or a hint of sentimentality. There is no lack of passion and fire too, and sample their confident attack in the first bar which, helped by the vivid sound of the recording, is totally impressive!
The Quartetto Italiano (right) gives more refined playing for the expressive but restrained first and third movement of the Ravel Quartet. Yet one just cannot sit still while listening to their spontaneous account of the Scherzo, or their burst of furious notes in the finale. It is this sensitivity to the music and its requirements that makes me value the Quartetto Italiano's interpretation of these two quartets. Contrasts between moods, movements and dynamics are all brought out so effectively by the group. Being a Philips 'Silver line' mid-priced CD, the price and the quality of this disc surely make this one of the best recording for these works.
Ong Yong Hui has an unfinished review of Schubert quartets. It had to be Schubert… stay tuned…
IN HIS STRING QUARTET in G minor, Op.10 Debussy already displayed much of his original style of composing which he would perfect in his maturity. All the movements are basically constructed in the same manner, the music advancing by a piecing together of musical threads rather than by a dependence on modulation. Of course, Debussy never bothered with formal development, bold ideas just rising out so naturally against the background when their time comes.The stormy start right from the first bar unfolds a complexity in the writing in which each instrument plays a totally different melodic line. The music then wanders off in a flight of fantasy and imagination, fluttering lines of rising and ebbing semiquavers in the violins. Disparate musical images are conjured up and follow one after another, but eventually the quartet meanders back to the opening statement fluently time and again. The Scherzo's primary focus is on both the opening viola theme and a resounding pizzicato motif going along in parallel, but as before the music drifts out of scheme and, unlike the strong opening, concludes vaguely.Debussy's music is always sensuous, and in the String Quartet it manifests itself in the Andantino. Hushed sustained lines of music float in the air dreamily, until the viola picks it up and gives it a physical voice in the form of an ambiguous soliloquy. An intense outburst occurs in the climax before the excited music retreats to the dreamy tones again. The finale unites the Quartet by incorporating the opening motif and quoting from the Scherzo, all the while blending the ideas together with new material. Debussy opted for a grand-chord ending to this early composition instead of a misty trailing off which would have marked his later works.
Previously on :INKPOT#72 CLASSICAL MUSIC REVIEWS: RAVEL/DEBUSSY String Quartets …